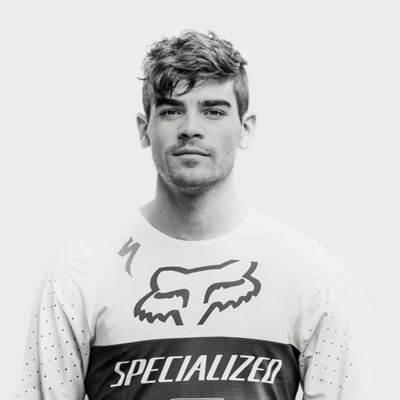 Loic wurde in Südfrankreich an der Côte d'Azur geboren. Er war schon immer gerne auf dem Bike und begann früh XC, DH und Trial zu fahren. Loic trainierte auf den berühmten Tracks wie Peille oder Cap d'Ail und bekam seinen ersten Vertrag als Junior. Durch das Training mit seinem Idol Sam Blenkinsop verbesserte er seine Geschwindigkeit und sein Racing.

Gesunde Ernährung, Regeneration, Offtime und die Zusammenarbeit mit seinem besten Freund und Mechaniker Jack Roure führten dazu, dass Loic das Elite-Podium in seinem zweiten Jahr als Junior in Windham USA erreichte. 2015 wurde er Weltmeister und gewann seine erste Weltcup-Etappe 2016 in Cairns-Australien.
Mehr sehen...
Tim Gajser
2019 MX GP World Champion
Tim Gajser ist ein slowenischer Motocross-Profi. Er fährt für das Team Honda HRC in der MXGP-Klasse bei den FIM MXGP Weltmeisterschaften. Tim wurde am 8. September 1996 in Ptuj, Slowenien, geboren. Sein Vater Bogomir war ebenfalls Motocross-Fahrer und führte seinen Sohn schon in jungen Jahren an den Sport heran. Er ist noch heute sein Trainer. Gajser hat einen älteren Bruder Nejc und zwei jüngere Schwestern Alja und Neja. 1995 erlitt seine Familie eine Tragödie, als sein 3-jähriger Bruder Žan bei einem Rennunfall ums Leben kam. Während eines Rennens war der kleine Junge auf der Strecke unterwegs und wurde bei einem Sprung vom Motorrad seines Vaters getroffen. Tim Gajser fährt mit der Nummer 243 zu Ehren seines verstorbenen Bruders, der am 24. März geboren wurde. 2015 gewann Gajser mit dem Gariboldi Honda-Team seine erste Weltmeisterschaft in der MX2-Klasse. 2016 qualifizierte er sich mit dem Team Honda HRC für die MXGP-Klasse. In einer beeindruckenden Rookie-MXGP-Saison wurde Gajser zum MXGP-Weltmeister 2016.
Mehr sehen...
Neuigkeiten
Victory at the Montreal Supercross! | 17.09.19
Victory at the Montreal Supercross!
Dylan Wright earns his first 250cc Montreal Supercross Victory!
The marquee Montreal Supercross returned to the Olympic Stadium for the 2019 showing. In conjunction with the Rockstar Energy Triple Crown Championship, the MTL SX is also the opening round of the SX Tour portion of the Triple Crown Series. Hot off his MX Tour Championship in August, and his previous AX Tour Championship in April, Dylan Wright is the man on top right now. We caught up with Dylan after he earned his first 250cc Montreal Supercross victory.
Race day strategy / consistency:
"Tonight was just about riding mellow, staying safe, and staying on the bike…somewhat (laughs), and not crashing too hard. I mean, that's just kind of what I've been doing all year and it's helped me win. I really would have liked to win a moto tonight because I felt like that second moto was mine but we're still stoked to get the Overall tonight."
Starts / Crash in Moto 1 start:
"I definitely wasn't thinking that I had a chance (for the overall) when I was laying down in the first turn. The first turn was tricky, it was hard packed and guys were going for it, so it was tough and a lot of us fell there tonight. I knew I just had to get through there, so for the second moto I lined up further outside to play it safer and I still just made it through…"
Moto 2 race battle / Track Conditions / Contention for the Overall Victory:
"I felt good, I tried to make something happen on Luke (Renzland) then I came out of a turn and saw a down rider and I got cross rutted off the lip and thought 'oh no, this ain't going good' and it kind of just messed me up mentally from then on so I knew it wasn't smart to keep pushing. The track was gnarly after the quads and stuff so it wasn't ideal to over-ride it and I was just thinking about getting out of here healthy and moving on to the next round - I honestly wasn't even thinking that I had the overall!"
250cc Results;
1st – Dylan Wright (5-2)
2nd – Luke Renzland (9-1)
3rd – Mathias Jorgenson (6-4)
Mehr sehen...
Super Bruni Champion in Mont Sainte-Anne! | 02.09.19
Loic Bruni summited the top of the downhill mountain biking world as he led from start to finish and took home yet another rainbow jersey. This amazing performance puts him in rarified air as only the second rider to have won four World Championships. On top of that, he is only the second rider to have ever won three Downhill World Championships in a row - the first to do it in nearly two decades! The action on the legendary track at Mont Sainte-Anne was intense; each of the last five riders set a new, fastest time of the day! Loic was last to go thanks to his position as the current World Champion, and he showed once again how he thrives under pressure by setting the fastest time on three of the four segments to win by just over a half-second. After celebrating his amazing performance, Loic will turn his attention to the final World Cup race of the season next week in Snowshoe, West Virginia. Loic currently holds first place for the overall title and can become one of only a handful of riders to win both titles in one season! Stay tuned for more info and congrats to Loic on his incredible performance!
For raceday UCI Downhill coverage, follow Fox Racing on Instagram @foxmtb
Mehr sehen...
FOX RACING® ÖSTERREICH - OFFICIAL SITE
Fox Racing wurde 1974 gegründet und behauptet sich seitdem als Innovationsträger in der MX-Branche durch die Entwicklung und Produktion von Motocross-Ausrüstung und -Bekleidung für die erfolgreichsten Piloten der Welt. Getreu seiner athletisch orientierten Design-Philosophie hat das Unternehmen seine Tätigkeit und seine Produkte auf den MTB- und BMX-Sport erweitert und nutzt seinen kreativen Innovationsgeist für die Entwicklung motocross-inspirierter Lifestyle-Bekleidung im Herren-, Damen- und Jugendsegment.